Our Pools Mainpage: www.suprnova.cc. Our Twitter: twitter.com/SuprnovaPools Be sure to follow us for updates and news !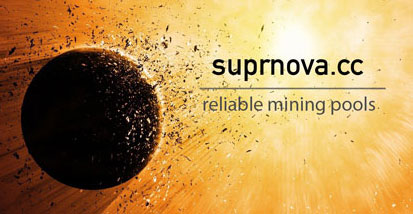 This is a
NGv2
Pool - you can use your Suprnova unified login here ! (All Suprnova Pools with this logo share the same login and worker information - no need to re-set everything !)
Suprnova's KMDCoin Pool // Algo: equihash // LIVE !
stratum+tcp://kmd.suprnova.cc:6250 Nicehash Port: 6251 ccminer (ASIC) Port: 6252
THIS POOL IS CLOSING - PLEASE WITHDRAW YOUR FUNDS AND MOVE TO A DIFFERENT POOL !
Round Statistics
Block Statistics
PPLNS Round Statistics
ID
510,359
PPLNS Shares
168,078,607
Height
1,459,448
Estimated Shares
44,221,570,454
Amount
2.998206
Target Variance
26,310.05 %
Confirmations
Confirmed
Block Average
168,079,970
Difficulty
172740509.58592
Average Efficiency
26,309.84 %
Time
2019-07-26 12:08:47
Target Rounds
10
Shares
166,494,687
Seconds This Round
14,749
Finder
sintezgbl
Round Variance
99.06 %
Round Transactions
| User Name | Round Shares | Round % | PPLNS Shares | PPLNS Round % | Variance | Amount |
| --- | --- | --- | --- | --- | --- | --- |
| sintezgbl | 28,388,607 | 17.05 | 28,817,495 | 17.15 | 100.55 | 0.51404985 |
| gnetik | 26,751,297 | 16.07 | 27,085,852 | 16.11 | 100.30 | 0.48316060 |
| anonymous | 15,024,449 | 9.02 | 15,024,449 | 8.94 | 99.06 | 0.26800788 |
| anonymous | 14,050,578 | 8.44 | 14,050,578 | 8.36 | 99.06 | 0.25063586 |
| xdemocle | 13,784,908 | 8.28 | 13,938,168 | 8.29 | 100.16 | 0.24863068 |
| 10kinds | 13,192,066 | 7.92 | 13,385,833 | 7.96 | 100.51 | 0.23877806 |
| BigMank | 10,009,834 | 6.01 | 10,133,600 | 6.03 | 100.28 | 0.18076434 |
| muckly | 9,952,352 | 5.98 | 10,127,505 | 6.03 | 100.80 | 0.18065562 |
| anonymous | 9,968,405 | 5.99 | 10,060,542 | 5.99 | 99.97 | 0.17946113 |
| anonymous | 9,771,046 | 5.87 | 9,850,721 | 5.86 | 99.87 | 0.17571832 |
| boxalex | 6,447,890 | 3.87 | 6,447,890 | 3.84 | 99.06 | 0.11501823 |
| fjrpilotnc | 5,000,851 | 3.00 | 5,000,851 | 2.98 | 99.06 | 0.08920578 |
| tonzpv76 | 3,642,802 | 2.19 | 3,642,802 | 2.17 | 99.06 | 0.06498073 |
| marcuspocus | 295,686 | 0.18 | 295,686 | 0.18 | 99.06 | 0.00527449 |
| Luke33 | 112,835 | 0.07 | 114,471 | 0.07 | 100.49 | 0.00204196 |
| anonymous | 41,205 | 0.02 | 41,540 | 0.02 | 99.86 | 0.00074100 |
| anonymous | 37,260 | 0.02 | 37,874 | 0.02 | 100.69 | 0.00067562 |
| dkorna | 9,705 | 0.01 | 9,705 | 0.01 | 99.06 | 0.00017314 |
| itanev | 8,478 | 0.01 | 8,560 | 0.01 | 100.02 | 0.00015271 |
| jumartos | 4,423 | 0.00 | 4,485 | 0.00 | 100.45 | 0.00008001 |
| Rank | User Name | Valid | Invalid | Invalid % |
| --- | --- | --- | --- | --- |
| 1 | sintezgbl | 28,388,607 | 121,602 | 0.43 |
| 2 | gnetik | 26,751,297 | 125,666 | 0.47 |
| 3 | anonymous | 15,024,449 | 15,536 | 0.10 |
| 4 | anonymous | 14,050,578 | 63,453 | 0.45 |
| 5 | xdemocle | 13,784,908 | 369,139 | 2.68 |
| 6 | 10kinds | 13,192,066 | 1,844,004 | 13.98 |
| 7 | BigMank | 10,009,834 | 44,004 | 0.44 |
| 8 | anonymous | 9,968,405 | 34,417 | 0.35 |
| 9 | muckly | 9,952,352 | 15,650 | 0.16 |
| 10 | anonymous | 9,771,046 | 740,759 | 7.58 |
| 11 | boxalex | 6,447,890 | 562,308 | 8.72 |
| 12 | fjrpilotnc | 5,000,851 | 642,647 | 12.85 |
| 13 | tonzpv76 | 3,642,802 | 11,769 | 0.32 |
| 14 | marcuspocus | 295,686 | 0 | 0.00 |
| 15 | Luke33 | 112,835 | 1,086 | 0.96 |
| 16 | anonymous | 41,205 | 0 | 0.00 |
| 17 | anonymous | 37,260 | 327 | 0.88 |
| 18 | dkorna | 9,705 | 32 | 0.33 |
| 19 | itanev | 8,478 | 286 | 3.37 |
| 20 | jumartos | 4,423 | 348 | 7.87 |
PPLNS Round Shares
| Rank | User Name | Valid | Invalid | Invalid % |
| --- | --- | --- | --- | --- |
| 1 | sintezgbl | 28,817,495 | 154,370 | 0.54 |
| 2 | gnetik | 27,085,852 | 125,666 | 0.46 |
| 3 | anonymous | 15,024,449 | 15,536 | 0.10 |
| 4 | anonymous | 14,050,578 | 63,453 | 0.45 |
| 5 | xdemocle | 13,938,168 | 377,653 | 2.71 |
| 6 | 10kinds | 13,385,833 | 1,844,004 | 13.78 |
| 7 | BigMank | 10,133,600 | 44,004 | 0.43 |
| 8 | muckly | 10,127,505 | 15,650 | 0.15 |
| 9 | anonymous | 10,060,542 | 34,417 | 0.34 |
| 10 | anonymous | 9,850,721 | 740,759 | 7.52 |
| 11 | boxalex | 6,447,890 | 562,308 | 8.72 |
| 12 | fjrpilotnc | 5,000,851 | 642,647 | 12.85 |
| 13 | tonzpv76 | 3,642,802 | 11,769 | 0.32 |
| 14 | marcuspocus | 295,686 | 0 | 0.00 |
| 15 | Luke33 | 114,471 | 1,086 | 0.95 |
| 16 | anonymous | 41,540 | 0 | 0.00 |
| 17 | anonymous | 37,874 | 327 | 0.86 |
| 18 | dkorna | 9,705 | 32 | 0.33 |
| 19 | itanev | 8,560 | 286 | 3.34 |
| 20 | jumartos | 4,485 | 348 | 7.76 |